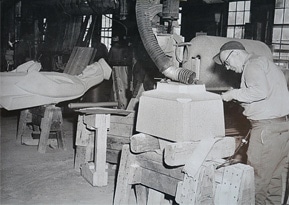 Joseph "Joe" Gallagher, after returning from WWII, married Eunice Jean Hunkler and started his career as a Master Carpenter for Smith Lumber Company in Barnesville, OH. Living in Temperancville, they decided to move from the family farm to Malaga.
In 1954 Gallagher Monuments was born in the old community Barber Shop in Malaga. With hard work and dedication, Joe designed and crafted beautiful memorials for the families of Monroe & surrounding counties.
On March 12, 1962, Joe hired Roman Schumacher, with the dream of carving and installing memorials out of his shop in Malaga. Joe felt that it was important to not only create a personal design for each family, but to do the work locally.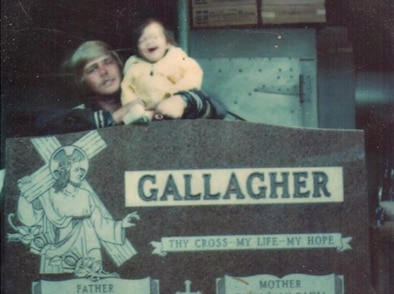 In June of 1975, his son, Ron, joined the business and the second generation continued to grow the business. In January of 1976, Ron's wife, Cathy Burkhart Gallagher began working with the company. At that point the company name was changed to Gallagher and Sons Monuments. In 1985, the business expanded to St. Clairsville, OH, adding a Belmont County showroom to the family business. The expansion grew the business and served the families of Southeast Ohio and the entire Tristate Area.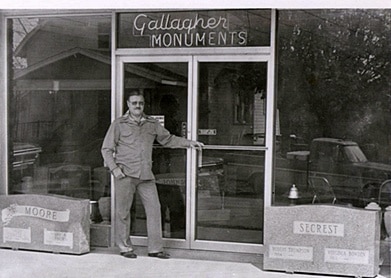 Today Gallagher & Son's monuments is in its 3rd generation of creating personalized cemetery memorials for the families of the Ohio Valley. The company has been locally owned and operated since 1954. All carving and lettering is done locally by second generation craftsman Tony Schumacher at the craftsman center in Malaga, OH. It is our great privilege to continue to serve the families of the Ohio Valley.