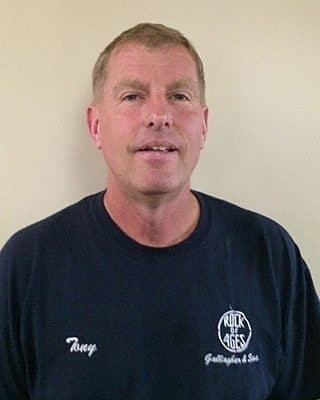 Tony Schumacher
Malaga Office
Tony Schumacher graduated from Beallsville High School in June of 1976.  Tony was employed by the North American Coal Company, Powhatan Point, OH from 1976 through 1987.  Tony started with Gallagher Monuments on Feb. 9, 1987, as a second-generation memorial carver, after his father Roman Schumacher.
He resides in Malaga, OH with his wife Cindy Randall Schumacher, who he married on August 23, 1980.  Tony and Cindy have four children, Marissa, Joshua, Eric, & Meagan.  Tony & Cindy are the grandparents of Wesley Cole and Lizbyn Cole.
Tony is a member of the St. John the Baptist Catholic Church, Miltonsburg, OH.  He is also an active member of the Knights of Columbus.  When he is not working, Tony loves to work in his garden, pitch horseshoes, and spending time with his family.
Contact >